Why Refrigerator Water Filters Are Important
Refrigerator water filters play a crucial role in ensuring the water that flows from the dispenser and ice maker is clean and safe to drink. One of the main features of these filters is their ability to trap and absorb contaminants found in tap water, thus improving its taste and odor.
A common component in refrigerator water filters is the coconut shell activated carbon filter. This specific type of filter effectively removes various pollutants, contributing to a higher water quality that can lead to better health.
Additionally, refrigerator water filters with sediment filters can remove larger particles from the water, further reinforcing the idea that these filters contribute heavily to maintaining healthy drinking water standards in your home. According to usa water quality, these filters are as essential as air filters for indoor air quality.
Without a proper refrigerator water filter, the water you drink or use in making ice would essentially be the same as unfiltered tap water, which may contain undesirable contaminants, such as chlorine or bacteria. Also, most fridge filters have the ability to remove chlorine, thereby eliminating chemical taste and odor.
In order to ensure the highest possible water quality, it is important to change your refrigerator water filters regularly. As contaminants and sediment accumulate, the filter's efficiency can decrease. By maintaining a fresh filter, you can be confident that your refrigerator is delivering clean water to your household.
In conclusion, refrigerator water filters are an essential element in providing clean drinking water, improving its taste and odor, and contributing to better health. It is crucial to maintain and replace the filters as needed, ensuring that the water and ice you consume remains safe and free from harmful contaminants.
Types of Refrigerator Water Filters
Refrigerator water filters commonly use different filtration technologies to remove contaminants and impurities from water. The primary types of refrigerator water filters are activated carbon filters, carbon block filters, and reverse osmosis systems. Each type varies in its effectiveness in removing specific contaminants.
Activated Carbon Filters
Activated carbon filters are popular for their ability to effectively remove a wide range of impurities from water. These filters use a porous form of carbon to trap contaminants through a process called adsorption. Most refrigerator water filters employ this technology to remove substances like chlorine, lead, and certain pesticides from the water. For example, activated carbon filters can efficiently reduce minerals such as chlorine found in tap water, improving taste and odor.
Carbon Block Filters
While activated carbon filters use granular carbon, carbon block filters contain a densely-packed form of the carbon material. This compact structure offers a more extensive surface area for absorbing contaminants, often resulting in improved filtration efficiency. Carbon block filters can effectively remove heavy metals like lead, mercury, and even certain pharmaceuticals from water. Of course, the exact types of contaminants removed can depend on the filter manufacturer.
Reverse Osmosis Systems
Reverse osmosis systems may be rarer in refrigerators, but they provide a highly efficient water filtration method. These systems force water through a semipermeable membrane, which separates the water molecules from larger pollutants. Unlike activated carbon and carbon block filters, reverse osmosis systems can filter out a more comprehensive list of impurities, including fluoride, arsenic, nitrate, nitrite, radium, barium, and selenium. However, these systems tend to be more expensive and require more maintenance than carbon-based filters.
In summary, refrigerator water filter technologies vary in their capabilities, but they generally aim to improve water quality by removing contaminants. Activated carbon and carbon block filters primarily focus on adsorption methods to trap pollutants, while reverse osmosis systems use a membrane-based filtration process for more comprehensive removal of impurities.
Here's a list of the best-selling refrigerator water filters on Amazon:
What Contaminants Are Filtered Out
Refrigerator water filters are designed to remove various contaminants from your water, ensuring it is clean and safe for consumption. This section elaborates on the types of contaminants filtered out by these water filters, which are primarily categorized into three: Chemical Contaminants, Physical Contaminants, and Biological Contaminants.
Chemical Contaminants
Refrigerator water filters effectively reduce and eliminate several chemical contaminants from the water, including:
Chlorine: A chemical commonly used in water treatment but can cause unpleasant tastes and odors. Activated carbon filters in refrigerators remove chlorine.
Lead: A harmful heavy metal that can leach into water supplies from pipes and fixtures. Refrigerator water filters can trap lead and other minerals.
Pharmaceuticals: Residues from medications can make their way into water sources, but activated carbon filters can remove pharmaceuticals as well.
Pesticides and herbicides: Chemicals used in agriculture may end up in water supplies. Refrigerator water filters help remove them.
Volatile Organic Compounds (VOCs): These compounds are common in industrial and residential environments, and can be removed by some refrigerator filters.
Physical Contaminants
Physical contaminants in water include particles like sediment, rust, and dirt, which can affect the water's appearance and taste. Refrigerator water filters can remove these impurities, providing clear and fresh-tasting water.
Sediment: Dust, sand, and other particles can be filtered out through the activated carbon or sediment filtering mechanisms, leaving the water clear.
Rust: Corroded pipes can lead to reddish-brown particles in the water. Refrigerator water filters capture rust particles to deliver clean water.
Asbestos: A hazardous material found in older building materials, refrigerator water filters can help to remove asbestos fibers from the water.
Biological Contaminants
Refrigerator water filters do not typically eliminate all biological contaminants like bacteria, viruses, and cysts. However, some refrigerator filters integrate advanced filtration technologies, like ultraviolet (UV) disinfection, to address these biological contaminants. If a filter does not explicitly mention the removal of biological contaminants, it is wise to assume it might be less effective against them.
In summary, refrigerator water filters are functional in reducing and eliminating various chemical contaminants, physical contaminants, and, in some cases, biological contaminants. By filtering out chemicals like chlorine, lead, and pesticides, and physical impurities such as sediment and rust, these filters play a crucial role in ensuring families have access to clean and safe drinking water.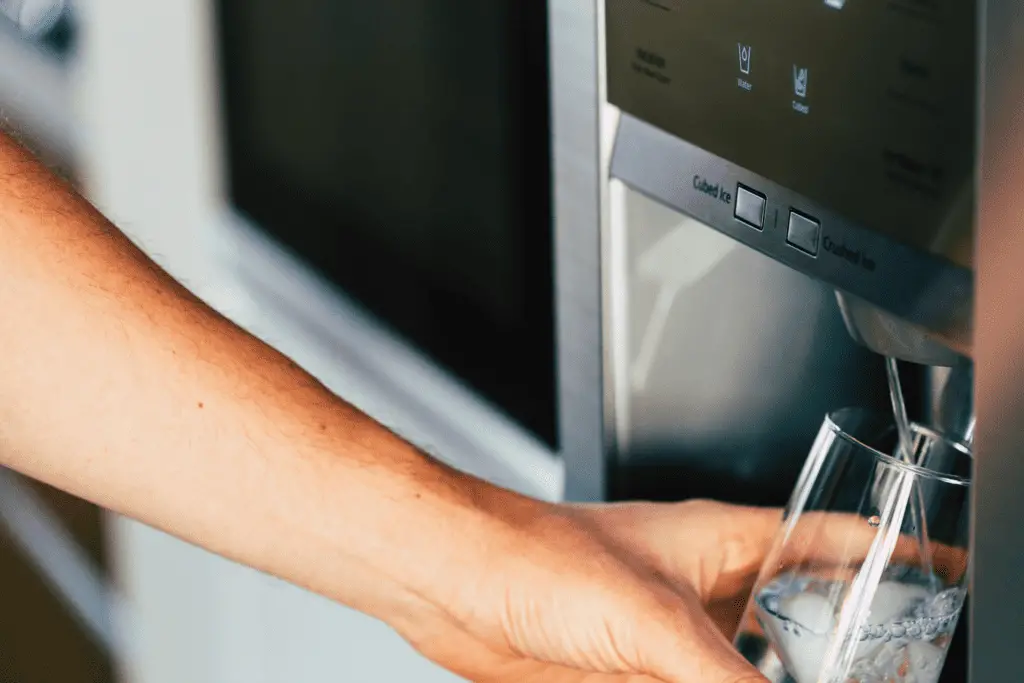 Effectiveness of Refrigerator Water Filters
Refrigerator water filters play a crucial role in offering improved water quality for various households. They effectively filter out contaminants and impurities, enhancing water's taste and odor. One of the key components in these filtration systems is the activated carbon filter, which attracts and traps microscopic particles and impurities through a magnet-like action.
The filtration process occurs when water passes through the filter, reducing the presence of contaminants such as chlorine, heavy metals like lead and mercury, and improving the overall taste. By removing the chlorine taste and odor, refrigerator water filters ensure fresh-tasting water and ice cubes, making them a popular addition to modern appliances.
Built-in refrigerator water filters differ in their effectiveness based on factors such as make and model, initial water quality, and proper maintenance. Replacing the filters regularly ensures they continue to reduce contaminants in tap water effectively. However, it is essential to understand that while these filters perform well within their size limitations, they might miss a wide range of inorganic contaminants and heavy metals, such as arsenic.
To summarize, refrigerator water filters are effective in filtering out contaminants, enhancing water taste and odor, and providing fresh-tasting water for drinking and ice production. The key to getting the most out of your refrigerator's water filtration system is to ensure the use of a quality filter, keep up with regular maintenance, and be aware of its limitations.
Maintenance and Replacement
Proper maintenance and timely replacement of refrigerator filters are essential for ensuring optimal water quality and the longevity of your appliance. This section covers aspects of maintaining and replacing refrigerator water filters.
Cleaning and Maintenance
It is important to periodically clean the exterior of the filter housing to prevent the buildup of dirt and grime. Gently wipe down the surface with a damp cloth or sponge, and avoid using abrasive cleaning agents that could damage the exterior. Regularly inspect the filter for signs of wear, such as cracks or discoloration, that may indicate it is time for a replacement.
Replacement Frequency
In general, refrigerator water filters should be replaced every six months or sooner, depending on your water quality and frequency of use. Some filters may have an indicator that signals when a replacement is necessary. It is essential to follow the manufacturer's recommendations for replacement intervals, as this ensures that the filter can effectively remove contaminants from your water supply.
Replacing the Filter
When it is time to replace a refrigerator water filter, follow these steps:
Locate the filter: It usually looks like a round tube and is typically 2 to 4 inches wide. Check your fridge for a grille located at the interior bottom or back panel. If it's not there, check the upper or lower back corners. If you still can't find it, inspect the exterior backside of the fridge (Discount Filters).
Remove the old filter: Depending on the design, you may need to twist, press, or pull a latch to release the filter. Be sure to have a towel or container handy to catch any water that may spill during the process.
Insert the new filter: Ensure that it is seated correctly in the housing, and lock it in place by twisting or pushing it firmly (Consumer Reports).
Reset the filter indicator (if applicable): Follow the manufacturer's instructions to reset the indicator, so the filter replacement is accurately tracked.
Flush the system: Run water through the new filter for a few minutes to remove any air trapped in the system and to ensure it is functioning properly.
By regularly maintaining and replacing your refrigerator water filters, you can help safeguard the quality of your water supply, protect your appliance from damage, and ensure the optimal performance of the filtration system.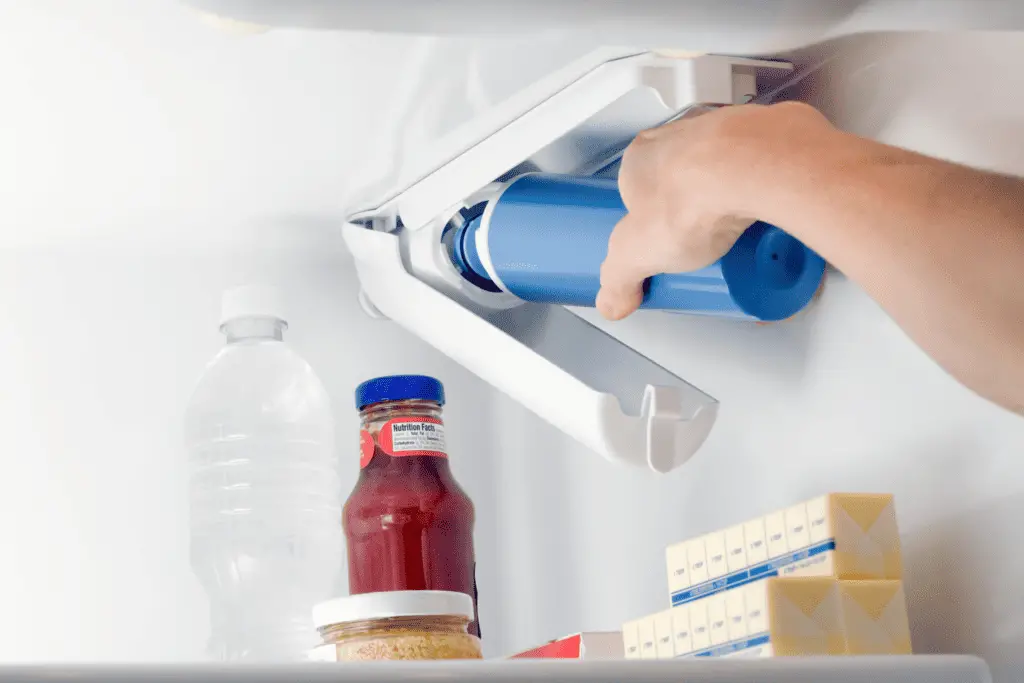 Certifications and Standards
Refrigerator water filters are primarily tested and certified by organizations like NSF International to ensure they meet certain standards for filtering out contaminants. Three important certifications are NSF/ANSI 42, NSF/ANSI 53, and NSF/ANSI 58.
NSF/ANSI 42 Certification: The NSF/ANSI 42 certification focuses on aesthetic effects on water, such as taste and odors. Filters that meet this standard are verified to reduce chlorine and particulates, which can affect water's taste and appearance.
Some key features of NSF/ANSI 42 filters include:
Reduction of chlorine taste and odor
Removal of particles, such as sediment and rust, greater than 5 microns in diameter
NSF/ANSI 53 Certification: NSF/ANSI 53 certification deals with the removal of more harmful contaminants, such as heavy metals, volatile organic chemicals (VOCs), and certain bacteria and viruses. Filters with this certification undergo rigorous testing to ensure they can remove these specific impurities effectively.
Aspects of NSF/ANSI 53 certified filters:
Reduction of harmful substances like lead, mercury, and asbestos
Removal of certain bacteria, cysts, and viruses
Decrease in VOCs and other chemical contaminants
NSF/ANSI 58 Certification: NSF/ANSI 58 certification is specific to reverse osmosis (RO) filtration systems. RO filters are known for their ability to remove even more contaminants, including dissolved salts and smaller particles. This certification ensures that the RO system is working effectively and meets strict criteria for performance.
Features of NSF/ANSI 58 certified filters:
Reduction of dissolved salts in water
Removal of heavy metals such as arsenic, chromium, and radium
Decrease in nitrates, fluoride, and other inorganic contaminants
In addition to these three main certifications, some refrigerator water filters may also meet NSF/ANSI 401 standards. This certification targets emerging contaminants, such as pharmaceuticals, pesticides, and herbicides.
Testing and Professional Help
One of the best ways to determine the effectiveness of your refrigerator water filter is through a water test. Water testing can help identify contaminants in your water, such as chlorine, heavy metals, and other pollutants. To ensure accurate results, it is recommended to seek help from professionals who can provide insight into your specific water quality issues.
Professional help not only involves water testing but can also provide guidance on the most suitable water filter solution for your home. In some cases, a whole house filter or inline water filter might be recommended, depending on the nature and extent of contamination in your water supply. These filter systems can effectively remove various contaminants from your water and provide safer, cleaner water for your household.
Whole house filters, also known as point-of-entry filters, treat all water entering your home. These systems typically require professional installation and can address a wide range of water quality problems. Inline water filters are directly attached to your water supply line and can be installed underneath a sink, behind a refrigerator, or at any other point along the water line. They are easy to install, making them a popular choice for homeowners looking for convenient water filtration solutions.
It is essential to maintain and replace refrigerator water filters as needed to ensure optimal performance. Professionals can help you determine the right filter replacement schedule based on your water usage and the specific contaminants present in your water supply. Regular maintenance and timely filter replacements can significantly improve the quality of your water, protecting your family's health.
In summary, seeking professional help for water testing and selecting the appropriate water filtration solution is crucial to addressing water quality concerns in your home. Whole house filters and inline water filters are among the popular options that may be recommended, depending on your individual needs. Remember always to maintain and replace filters as per the manufacturer's guidelines for the best results.
Health and Environmental Implications
Refrigerator water filters can help alleviate various health and environmental concerns associated with contaminated water. They also provide a convenient and cost-effective alternative to bottled water. Let's look at some of the potential problems that water filters can address.
Skin Irritation
Untreated water may contain chemicals and contaminants that can cause skin irritation. For example, an excess of chlorine in water used for bathing or washing dishes may trigger allergies, eczema, or rashes. By removing harmful substances, refrigerator water filters can help prevent skin issues associated with exposure to contaminated water.
Cancer
Drinking water with certain contaminants, such as heavy metals or volatile organic compounds (VOCs), may increase the risk of developing cancer. Many refrigerator water filters effectively remove these harmful pollutants. For instance, the EveryDrop EDR1RXD1 eliminates up to 99% of lead and other contaminants.
Bottled Water and Environmental Impact
Bottled water may seem like a safe and convenient option, but it contributes to plastic waste and can be expensive in the long run. Refrigerator water filters offer a more sustainable solution by providing clean, filtered water directly from the tap, resulting in reduced plastic waste and lower costs for consumers.
Bad Taste and Odor
Contaminated water often exhibits unpleasant tastes and odors. Refrigerator water filters, such as activated-carbon filters, can effectively remove these impurities, resulting in better-tasting and smelling water, which can improve the quality of drinking water as well as dishes cooked with it.
Cleanliness of Dishes and Sinks
A refrigerator water filter can improve the quality of water used for washing dishes and cleaning sinks. By removing contaminants, the water leaves fewer residues on dishes and surfaces, making them cleaner and potentially reducing the risk of bacteria and mold growth.
In conclusion, using a refrigerator water filter can have multiple health and environmental benefits, like reducing skin irritation, lowering cancer risks, providing an environmentally friendly alternative to bottled water, improving taste and smell, and enhancing the cleanliness of dishes and sinks. Investing in a refrigerator water filter is a smart choice for a healthier home and a greener environment.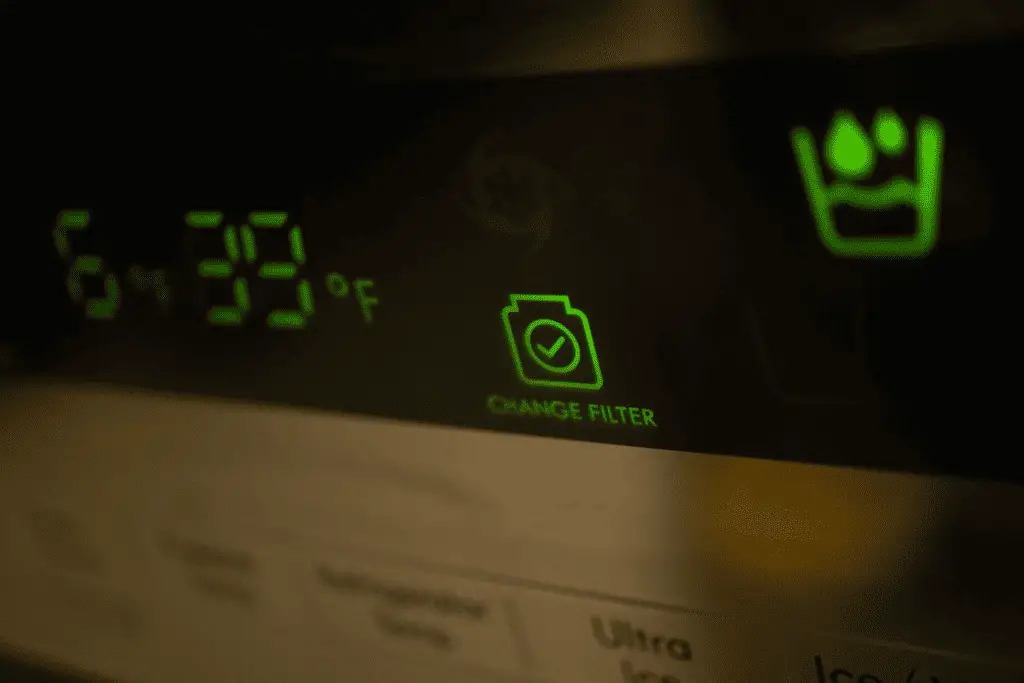 Additional Considerations
When it comes to refrigerator water filters, there are several important aspects that people need to consider besides the removal of basic contaminants. Filters can impact various household concerns, such as mold, allergies, scale build-up, and the presence of microbes.
One consideration involves the adsorption properties of refrigerator water filters. Many filters use activated carbon, which helps reduce impurities through its porous material. This process effectively removes chlorine taste and odor from the water, enhancing its overall quality.
Another concern is the presence of microbes in the water. While most filters do not specifically target mold or microbes, they do help in removing some larger particles, such as sediment or rust, that can potentially harbor these unwanted guests. However, it is crucial to note that not all refrigerator water filters are designed to target these issues, so additional filtration or purification methods may be required.
Some water filters also help reduce scale build-up, which occurs when minerals accumulate over time, causing damage to appliances and plumbing systems. By removing certain substances from the water those particles have a diameter of at least 5 microns, water filters can contribute to a decreased risk of scale build-up.
When it comes to allergies, water filters can play a role in reducing the presence of allergens in drinking water. By removing contaminants and impurities such as chlorine, heavy metals, and volatile organic compounds, filters can potentially alleviate some allergy symptoms associated with these substances.
Lastly, it is essential to recognize that not all refrigerator water filters are capable of removing more harmful contaminants such as nitrate and radium. To address these specific concerns, additional filtration methods or specialized filters may be necessary. Always consult the manufacturer's specifications and recommendations to ensure the chosen filter meets your individual needs.